BOO!
Did I scare ya? If I didn't, I'm sure the picture attached to this post will. Hint…Brian will do anything for a Scooby snack…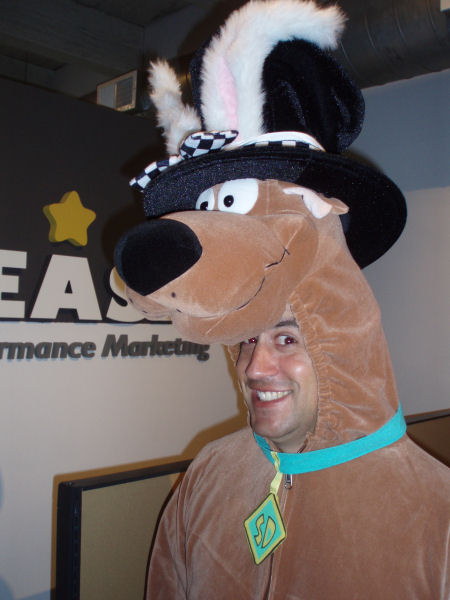 Halloween is right around the corner, and the National Retail Federation estimates that consumers dropped $3.29 billion on Halloween in 2005, with the average consumer spending $48.48 on merchandise. To help you get a piece of the action, we put together a list of ShareASale merchants that suit the season…so, in no particular order, I'd like to introduce you to:
SpookShop
www.spookshop.com
Commission: 8%
30-day EPC: $1.66
Cookie: 120 days
Auto-approve, auto-deposit, datafeed available
Spook Shop sells costumes for both adults and children, including licensed spook suits from Superman, Batman, Spiderman, Disney, and many more. They also offer a great selection of accessories (feather boas are year-round accessories…in fact, I just saw a man wear one with an eight-panel pimp hat in Orlando. Tres sexy), wigs, masks, props/decor and gifts.
The average sale is $55.59. Also, they have some great content you could adapt for your own marketing efforts, articles on Halloween safety tips, Halloween origins, custom fangs, etc. Good stuff.
Join Program/Learn More
Village Hat Shop
www.villagehatshop.com
Commission: 7%
30-day EPC: $10.01
Cookie: 90 days
Auto-approve, auto-deposit, datafeed available.
From leopard-print fezes to British pith helmets, the Village Hat Shop has just the right hat to top off any Halloween costume! Their collection of novelty and historical hats truly sets them apart from any other hat vendor out there. Where else can you get an Afghani tribal marriage hat or an honest-to-goodness Viking helmet? Sherlock Holmes, the Cat in the Hat, Harry Potter, you name it. Village Hat Shop is the perfect place to get the piece-de-resistance for any costume.
Join Program/Learn More
HalloweenGameAtoZ.com
www.halloweengamesatoz.com
Commission: 35%
30-day EPC: $3.62
Cookie: 120 days
Entertain guests with custom-printed Halloween games! We offer an extensive collection of games you can print instantly, straight off your computer. No downloads, no installs, no emails, just straight fun! Games include 'Pin the Tail on the Cat,' 'Halloween Bingo,' 'Midnight Mystery,' Halloween themed coloring pages, and much more. Our top affiliates earn over $1,000 in commission per week and we'll do everything we can to help all our affiliates earn more. And when Halloween is over, we've also got ChristmasGamesAtoZ.com, EasterGamesAtoZ.com and BabyShowerGamesAtoZ.com! Once you join our program, you'll earn commission for sales on any one of those sites!
Join Program/Learn More
Fright Catalog
www.frightcatalog.com
Commission: 8%
30-day EPC: $8.47
Cookie: 60 days
Fright Catalog sells Halloween decorations, props, costumes, accessories, special effect, Hollywood items and collectibles. The prices are great, and the copy is just hysterical. For example: "Skeleton Hand Wine Glass. $9.99. The ultimate Gothic table glassware. Natural look skeleton hand holding a real wine glass. 10 inches tall. Packed in a coffin shapped box with acetate top." Truly, what is a "natural look skeleton hand"?
Join Program/Learn More
Costume Craze LLC
www.costumecraze.com
Commission: 8%
30-day EPC: $7.73
Cookie: 180 days
Auto-deposit, datafeed available
Costume Craze is a well-organized site selling costumes for adults, teens, children and DOGS. Plus, not only do they do same-day shipping, but they also offer fixed-rate shipping. Any order, any size, $5.99. That does wonders for their conversion rate. Movie character costumes include Corpse Bride, Willy Wonka, Fantastic Four, The Incredibles, Superman, Star Wars, Matrix, you name it. AND, if you ever wanted to be Ozzy, Jack, Kelly or Sharon Osbourne for a day, Costume Craze can hook you up.
Join Program/Learn More
Halloweenie
www.halloweencostumeboutique.com
Commission: 10%
30-day EPC: $0.84
Cookie: 30 days
Auto-approve, auto-deposit, datafeed available
Halloween Costume Boutique sells, you guessed it, costumes and accessories for adults year-round. The well organized site is great for browsing, and a search box is available for those shoppers who already know what they want to be. Most orders are shipped within 24 hours of being placed, and their return rate is less than 1%.
Join Program/Learn More
Flirty Lingerie
www.flirtylingerie.com
Commission: 15%
30-day EPC: $2.28
Cookie: 180 days
Auto-approve, auto-deposit, datafeed available
Brian points out that "people like to wear sexy costumes at Halloween," so per his request, I spent a few minutes of my workday poking around FlirtyLingerie.com. Not only do they have a vast selection of bodystockings, bustiers and vinyl wear, but for those who only flirt on Halloween, costume options include: school girl, Wonder Woman, French maids, nurse, cheerleaders, mermaids, fairies, harem dancers, catsuits, police women, etc. etc. You get the idea. Here.s the deal though fellas, if you peruse the site, you must join the affiliate program.
Join Program/Learn More
Electrique Boutique
www.electriqueboutique.com
Commission: 7%
30-day EPC: $7.02
Cookie: 30 days
Electrique Boutique offers fabulous, funky and fun sexy clothing, shoes, swimwear and accessories…and, just in time for Halloween, a great selection of adult costumes for men and women. The variety is quite good too. For men, they.ve got everything from a chain mail long-sleeve shirt to a micro thong. (How is that a costume?) For women, there's a cute pilot costume (apparently for the mile high club) and a "Paris Heiress" costume. In the picture, the model holds a stuffed Chihuahua. Funny. Average sale is $50.15, that's before the Halloween season even kicks in.
Join Program/Learn More
Happy Halloween selling everyone!!
Carolyn Tang
Director of Client Services
ShareASale.com