Tracking Awin's one billionth sale, Black Friday saw small businesses trumping their 2020 performance by 50% and fashion taking 25% of all tracked sales.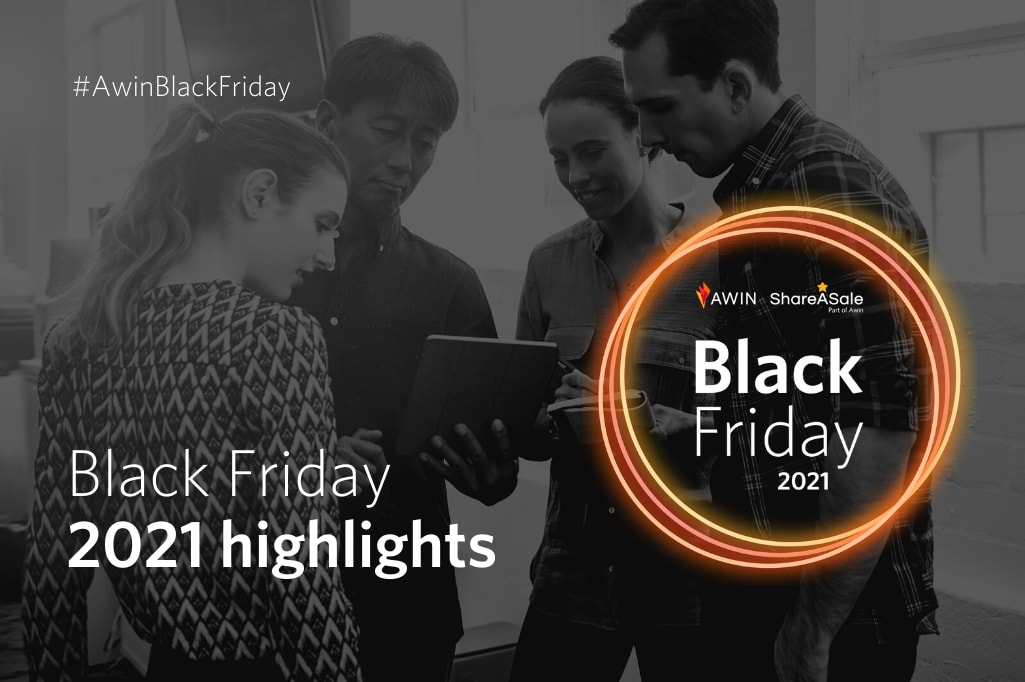 1. Baskets are up. A clear trend across November has been the spike we're seeing in higher average purchases. 'Average order value' is a metric we track and is a useful indicator of the type of products and customers influenced by promotional methods and activity.
2. AOV has been consistently between ten and 20 percent up compared to 2020 numbers across November, narrowing slightly on Black Friday: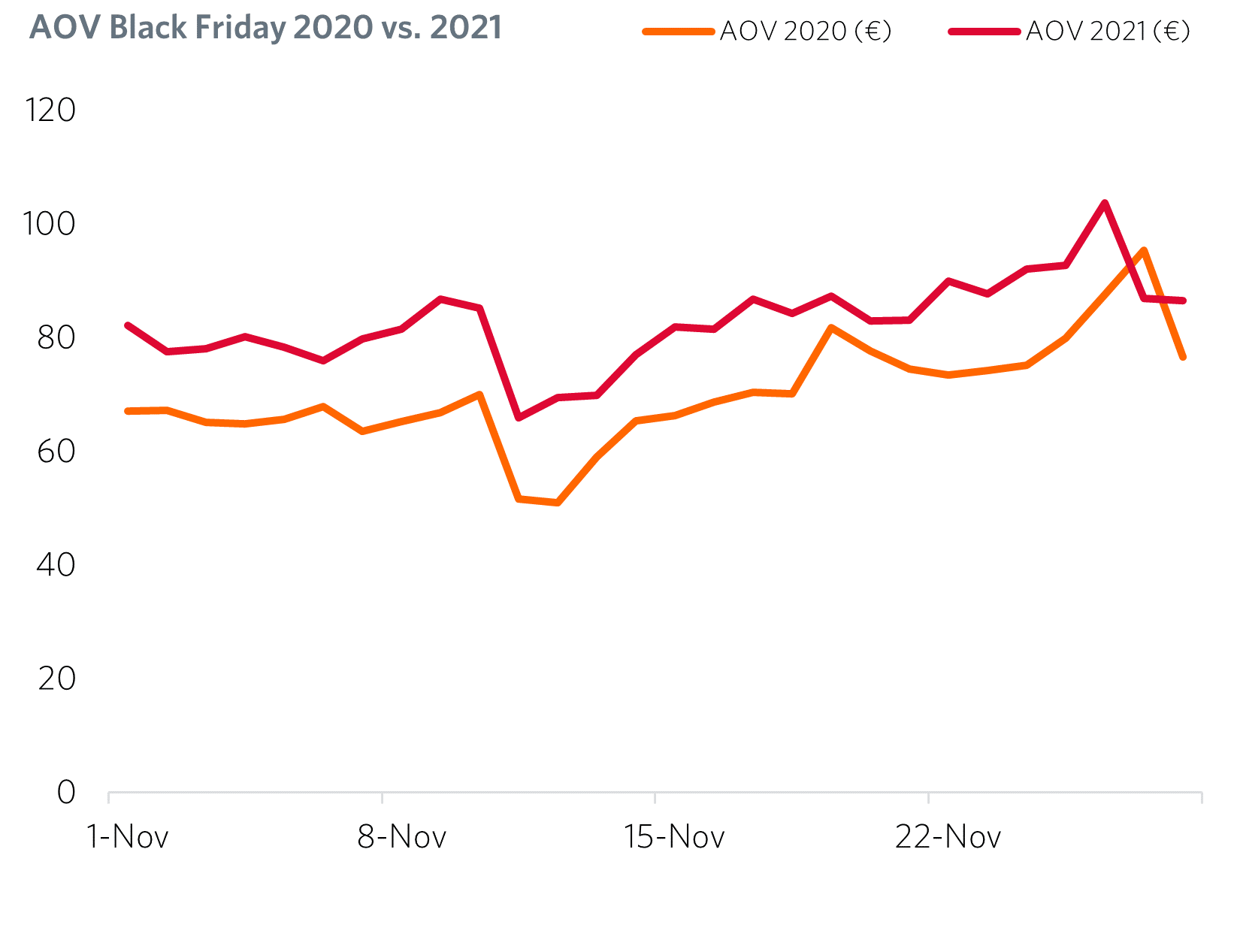 3. A double whammy. With inflation driving up prices globally and with supply chain fears, the consensus is that fewer brands are discounting or discounting as deeply.
4. Retail reigns supreme. Once again fashion was by far and away the biggest advertiser segment on the Awin Group's global network. Perhaps underlining how Black Friday is an important self-gifting event, it consolidated its 2020 position. Electronics meanwhile fell back, but this could be indicative of both a lower availability of stock, as well as big box retailers going early in November with their promotions. Health and beauty has surged back in 2021, now occupying second spot: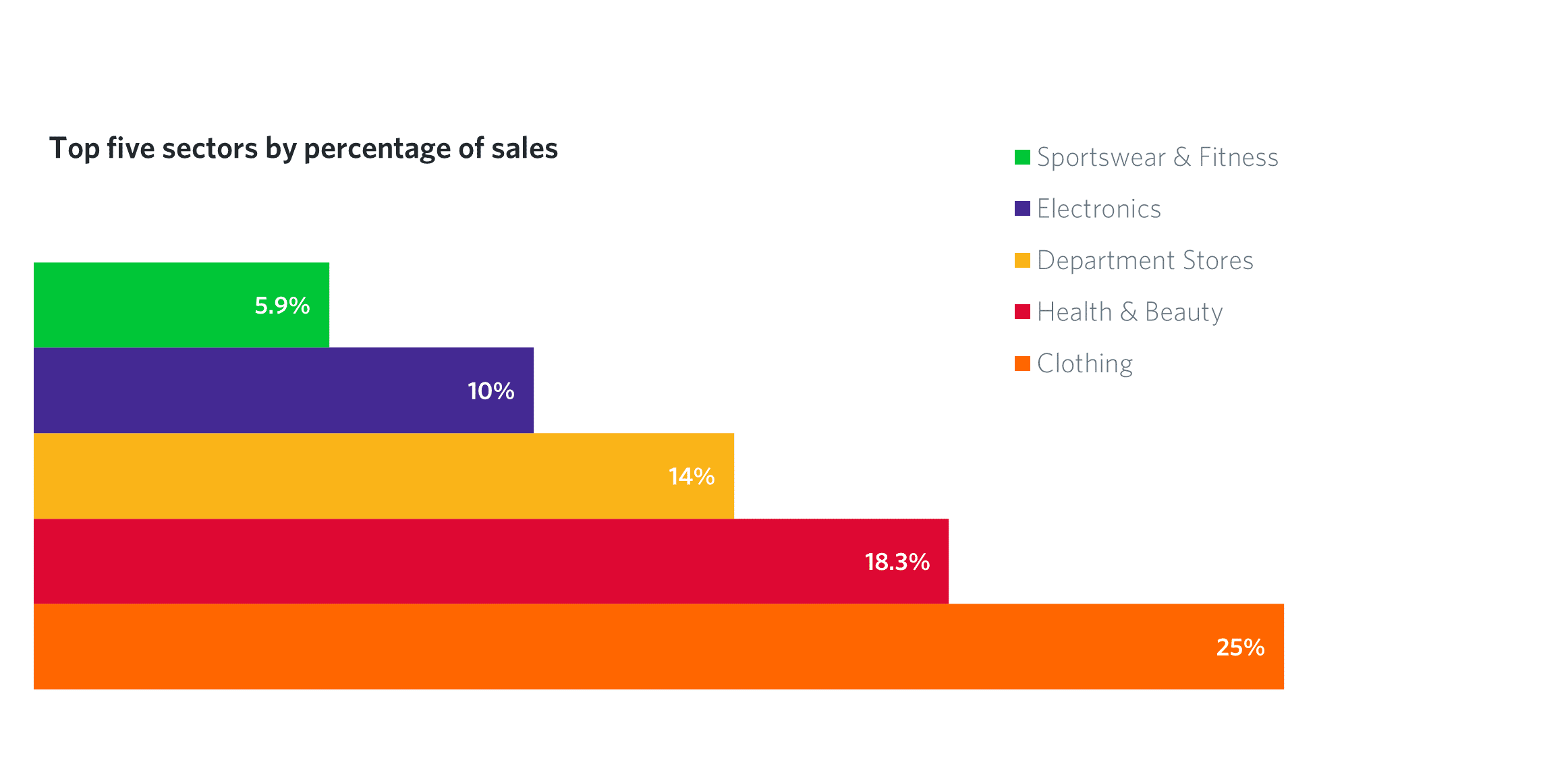 5. Black Friday reigns supreme, but faster growth is happening ever earlier. A widely shared trend over the past couple of years is how a traditional late November weekend of sales is being stretched across the whole month. Awin enjoyed strong year-on-year growth for the first week of the month, with commissions up one third and revenue by one quarter. By Black Friday week these numbers had dropped to single-digit increases.
6. This trend was first noticed in markets where Black Friday has a stronger foothold, particularly the UK. While it isn't universal, 2021 has shown it is indicative of something broader. Again, with supply chain worries, many retailers may have pre-empted this, creating an urgency among shoppers about whether they would be able to buy what they wanted in the run up to Christmas.
7. With the continued growth in mobile traffic, and sales on smartphones exceeding traditional desktop for the first time in 2020, the next milestone was sales revenue. Tracking at lower average baskets, handsets have lagged but 2021 saw order value running neck and neck: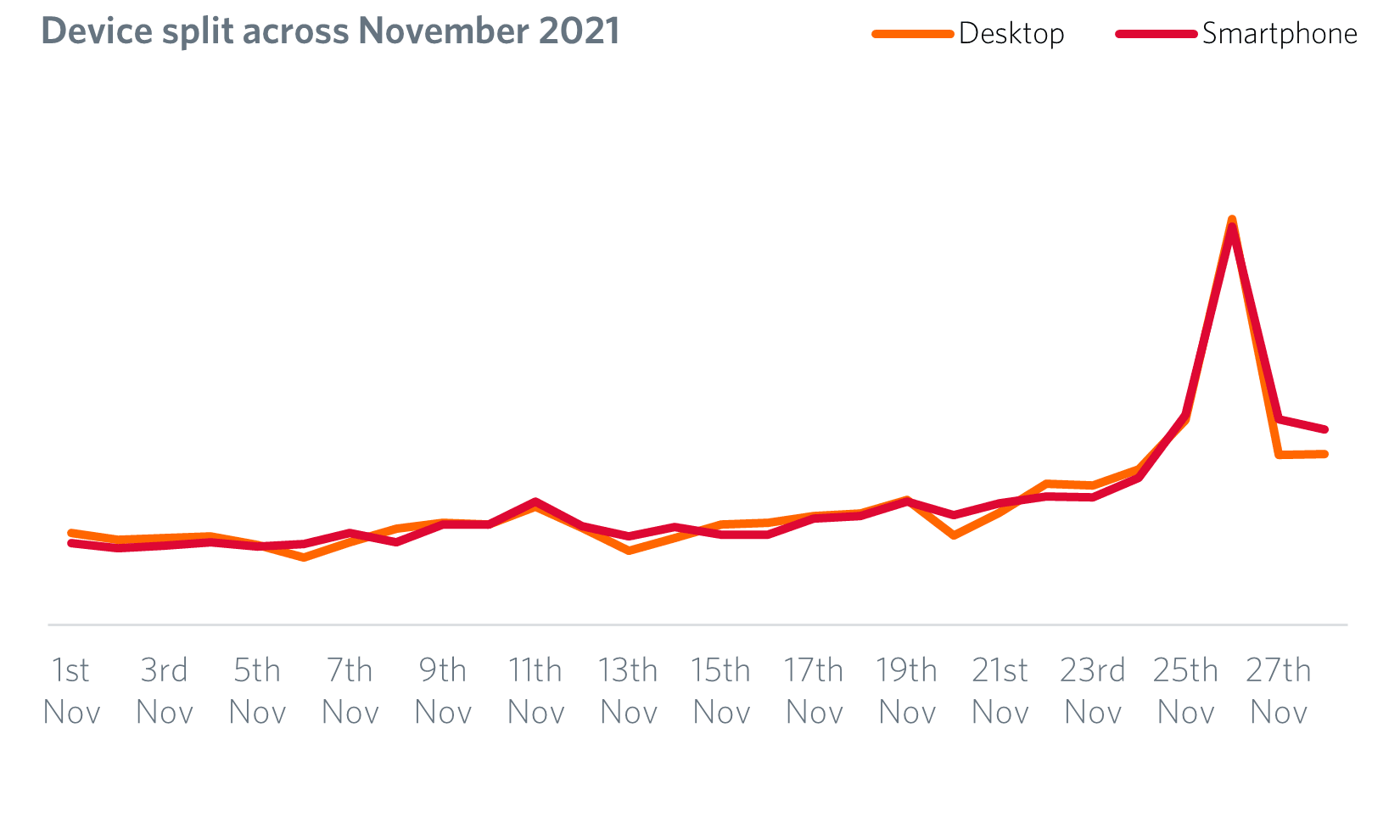 The gap is also shrinking, as smartphone baskets grew, on average, by 17% compared to 13% on desktops.
8. In-app sales, a big push for the affiliate industry in 2021, is starting to have an impact. While AOVs remain low, they grew by 82% on Black Friday 2020, and now represent around one in eight smartphone sales.
9. SME sales are booming. Much was made of small businesses with an ecommerce proposition finding a new audience during successive lockdowns, and surveys claimed that consumers were positively inclined to shop local. The pandemic coincided with Awin launching its micro-SME service, Awin Access and hundreds of businesses have launched affiliate programs as a result. Black Friday saw sales up 50% on 2020's numbers, demonstrating how the affiliate channel is not just suited to large brands: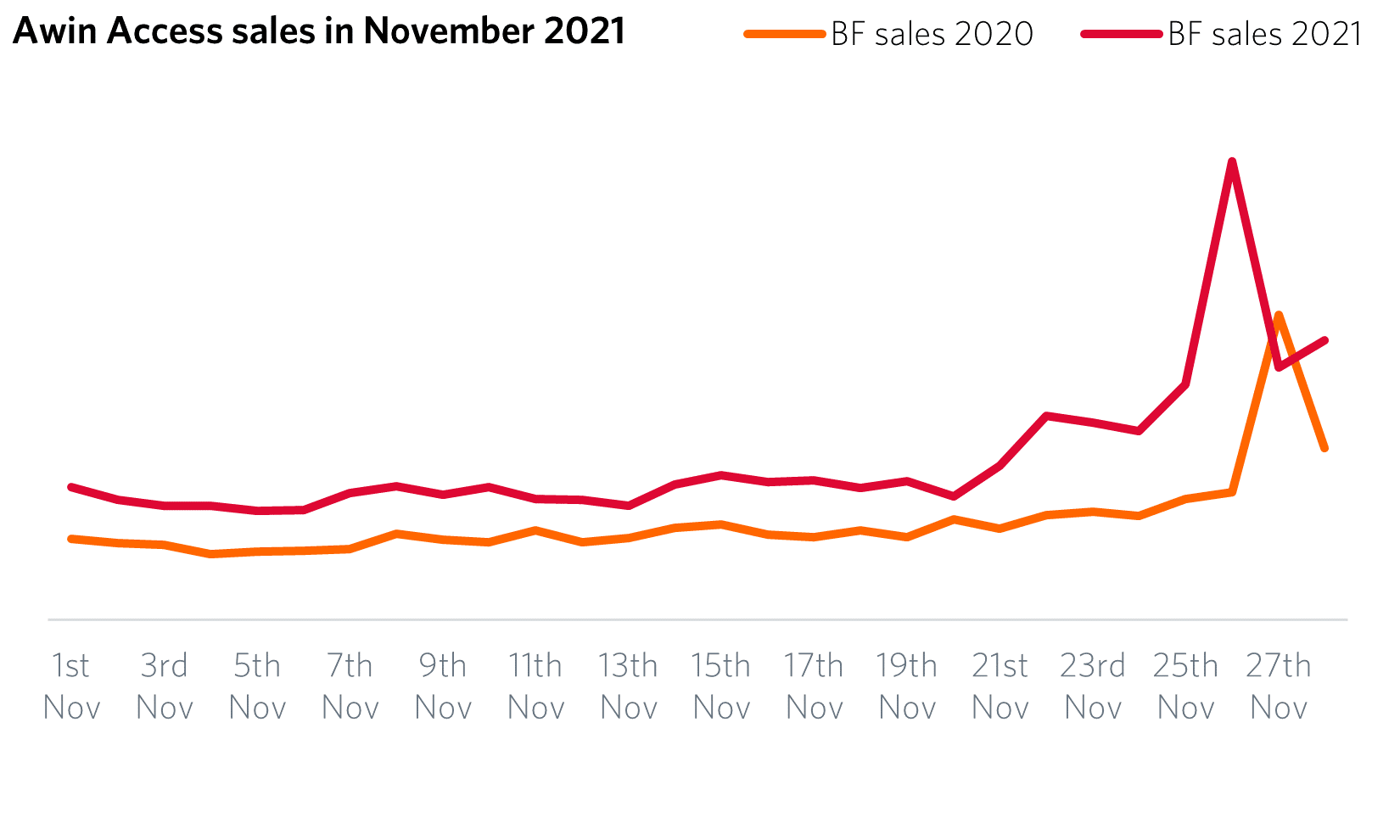 10. And finally, something quite personal to the Awin Group. During the run up to Black Friday, Awin posted its one billionth sale on the Awin platform. Tracked in the UK this Quidco cashback sale for Boots (with a £77 sale value and £1.55 cashback), marks a special milestone for the Awin Group and the affiliate channel. It also demonstrates the resilience of an industry that is now fully embedded in brands' online marketing campaigns.