StormX is the leading global crypto cashback provider, offering its users cashback rewards in the form of Bitcoin, Ethereum, and STMX (StormX's native token).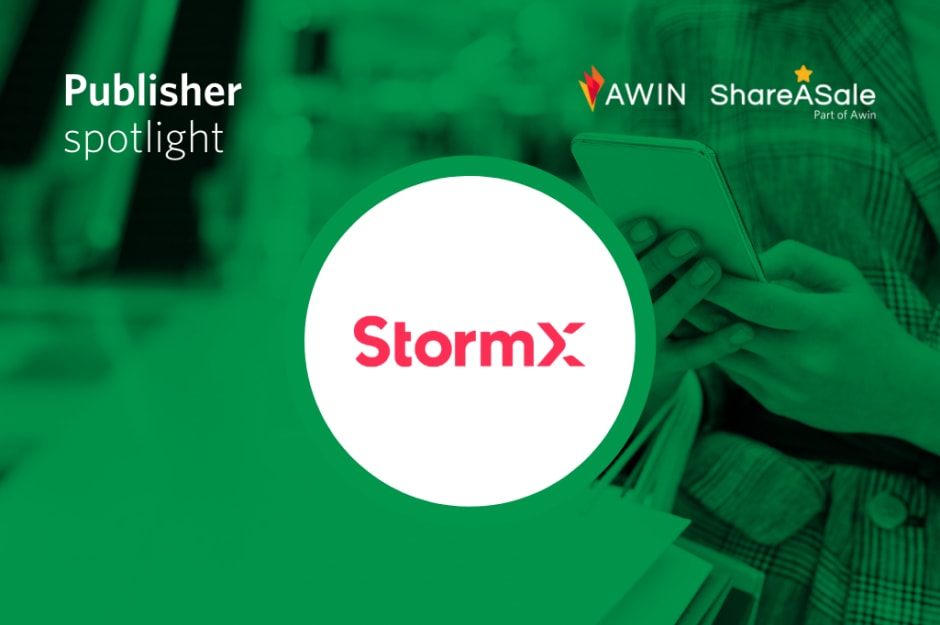 With over 4+ million app downloads, and $3 million in crypto rewards paid out this year alone, StormX has quickly taken the crypto world by… storm.
Why and when was StormX created?
StormX was started in 2014 with the mission to provide people around the world access to cryptocurrency without the need to buy it. StormX has since evolved over the past seven years, from a play-to-earn into a shop-to-earn platform, allowing entry-level access to crypto without changes in habit. However, our mission remains intact as we continue to provide crypto cashback rewards to our users in over 170 countries.
In what way does StormX utilize affiliate marketing?
StormX works with advertising partners to promote compelling crypto cashback offers to our organically grown global audience. Ultimately, affiliate marketing helps us connect advertisers to a new, younger, affluent shopper base that views every purchase with our partners as an opportunity to build wealth and inadvertently results in higher ABV's.
What kinds of products and deals resonate with your audience?
Our audience is pretty varied, however, the majority of our users fall between 18 – 34 years of age. Due to the nature of crypto, we tend to find that we attract users with above average household income and interests spanning travel, technology, finance, fashion and sports. While StormX members love a good deal, they genuinely appreciate companies that embrace innovation and choose to advertise with a platform that rewards their customers' purchases with cryptocurrency.
Our audience has a range of priorities when it comes to their shopping. A large segment of our audience is brand-conscious and cares about premium brands, so we are always keen to partner with a range of name brand advertisers. Conversely, a sizable share of our audience looks to StormX for crypto cashback on everyday essentials, so marketplace partners and shopping sites are also of great interest.
How does StormX differentiate itself from its competitors in the affiliate space?
Our co-founders have been involved in the blockchain and cryptocurrency community for many years and have put StormX at the intersection of blockchain technology and ecommerce. Our differentiator at StormX is the ability to work with our advertising partners using traditional marketing technology while at the same time utilizing the power of our blockchain platform to deliver an unrivaled cashback reward to our members.
What are the key factors in determining which programs to join and what do you look for in an advertiser partner?
We have an ear-to-the-ground at all times, thanks to our community, and listen to their feedback to decide who we partner with based on their interests. When evaluating advertising partners, we look for brands that resonate with our audience and in turn, want to amplify their exposure to younger crypto cashback customers.
What are the benefits for advertisers working with StormX?
Our advertising partners are able to explore how cryptocurrency can improve the cashback experience, while letting StormX do the heavy lifting to connect them with this audience and manage the crypto rewards memberships and payments.
One of our other benefits is that we don't have a one-size-fits-all approach to our partnerships; we are nimble and able to custom design partnerships that cater to advertisers' strategic objectives. From short-term promotional offers to channel-specific amplification, we pride ourselves on providing high-quality promotions for our advertisers. While we prioritize evergreen offers, we are also happy to help advertisers reach their short-term goals through more targeted offers with tighter timeframes. Plus, in the process of gaining crypto rewards, our users tend to opt for increased basket values to maximize their cashback!
What is the best way that an advertiser can help support their partnership with you?
Ultimately, the best way an advertiser can support our partnership is through open communication and a willingness to explore how working with a crypto cashback platform can amplify their offers. We can make their offers exponentially more compelling to StormX members, build loyalty and drive new brand fans their way.
We love promoting our advertising partners to our members, and we always appreciate when they can do the same on their end to drive additional awareness among their existing audience via cross-promotion through owned consumer loyalty and social media channels.
Why did you join the Awin and ShareASale networks, and what features do you enjoy?
We joined the Awin network because we love the network's global reach of advertising partners. Awin's network has an unparalleled selection of companies that our members are interested in and we're proud to work with. After joining, our favorite feature of Awin and ShareASale quickly became the team! The account and development managers we work with truly help us get the most value out of the networks.
Do you have any upcoming promotions, new launches, or exciting news you would like to share?
We recently refreshed the design and user experience in our app, and paid particular attention to increasing the promotional opportunities available to our advertising partners ahead of Black Friday and Cyber Monday. We are now featuring a "Weekly Downpour" promotion for short term, high CPA offers targeted to country-specific regions. We've also enhanced our "Featured Shop" promotions to include additional room for eye-catching creative – going way beyond the logo.
In terms of exciting news, we are over the moon about our first-ever debit card which is launching in early 2022. Making its debut in the US first, the StormX debit card will allow our enrolled members to spend cryptocurrency directly at our advertising partners' point of sale, leveraging their existing payment platform. This innovative debit card will completely bridge the gap between cryptocurrency and the everyday shopping experience.
In regards to StormX news beyond products and features, we are continually thrilled by our new partnership with the NBA's Portland Trail Blazers. Starting this year the Trail Blazers, and their fans across the world, have embraced us as their official blockchain partner and jersey sponsor. We look forward to working with the Blazers for years to come, sharing our mutual interests in innovation, great basketball, and crypto cashback.
Has there been a pivotal shift or turning point in your affiliate activities within the last 12 months? If so, what was it?
A few years ago, StormX was largely a play-to-earn platform featuring gamified earning opportunities. Based on the interests of our community, we began to build out the ability to earn while online shopping, too, and have made great strides with our affiliate product and partnership development over the past 12 months. Once we pivoted to affiliate marketing with ecommerce partners we never looked back, and have since seen great results and encouraging feedback from our members that we're on the right track.
Interested in working with StormX? Please contact our publisher management team.